Corporate Profile
Credo's mission is to deliver high-speed solutions to break bandwidth barriers on every wired connection in the data infrastructure market. We provide innovative, secure, high-speed connectivity solutions that deliver improved power and cost efficiency as data rates and corresponding bandwidth requirements increase exponentially throughout the data infrastructure market. Click here to learn more about us.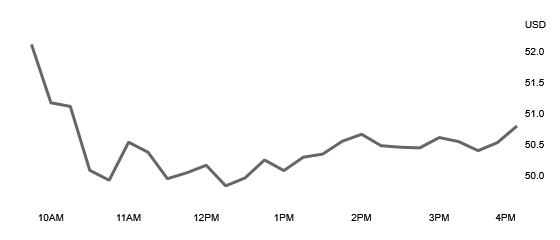 Data Provided by Refinitiv. Minimum 15 minutes delayed.
News Releases
---
Industry Leaders Join Forces to Meet the Next Generation Needs of Service Providers, 5G Telecom and Fixed Access Operators EINDHOVEN, Netherlands & SAN JOSE, Calif. --(BUSINESS WIRE)--Mar. 6, 2023-- Credo (NASDAQ:CRDO) and EFFECT Photonics today announced plans to collaborate on the development of
SAN JOSE, Calif. --(BUSINESS WIRE)--Mar. 2, 2023-- Credo Technology Group Holding Ltd (NASDAQ: CRDO) invites OFC conference attendees to visit its public display during expo hours in booth 3947 in the San Diego convention center from March 7-9 . This press release features multimedia.
SAN JOSE, Calif., March 01, 2023 (GLOBE NEWSWIRE) -- Credo Technology Group Holding Ltd (NASDAQ: CRDO), an innovator in providing secure, high-speed connectivity solutions that deliver improved power and cost efficiency as data rates and corresponding bandwidth requirements increase throughout the